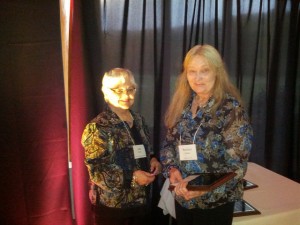 Barb Radigan – Receives STLS Innovative Library Director Award – 2014

By Brian M. Hildreth, Executive Director – Southern Tier Library System
Our next award winner is also from Steuben County. This individual was recently featured in a Friday Follow-up, and although we didn't know it at the time, she was also a nominee for the first ever STLS Innovative Library Director Award. This year's recipient is Barb Radigan, library director Pulteney Free Library.
Barb received several supporting letters with her nomination. Some letters of support were even from outside her community. Her lead nomination came from Alise Irwin, president of the Pulteney Free Library Board of Trustees. Alise had this to say about Barb:
"Known in our community as "Barb" by children and adults alike, Barbara has been the shining light of our library – and the community – for twenty years. She has introduced new technology and how to make it work for us; fostered reading programs for all age groups; encouraged young people to paint and draw and write as well as read; supervised interns and wary substitutes as they learned how to open and close the library, shelve books, check materials in and out, and assist patrons in using the many programs available to them.
Barb is a veritable wizard of grant-writing, securing funding for a variety of library functions. She offers classes outside of the confines of the Library, taking the show on the road to groups such as senior lunches and Bone Builders. She utilizes every square inch of space in the tiny Library, floor-to-ceiling, displaying the kits, art work, and fishing equipment available for patrons to borrow."